Mauritius is not just famous for its beaches but also has some magnificent waterfalls and hiking views. Continue reading this article for all the details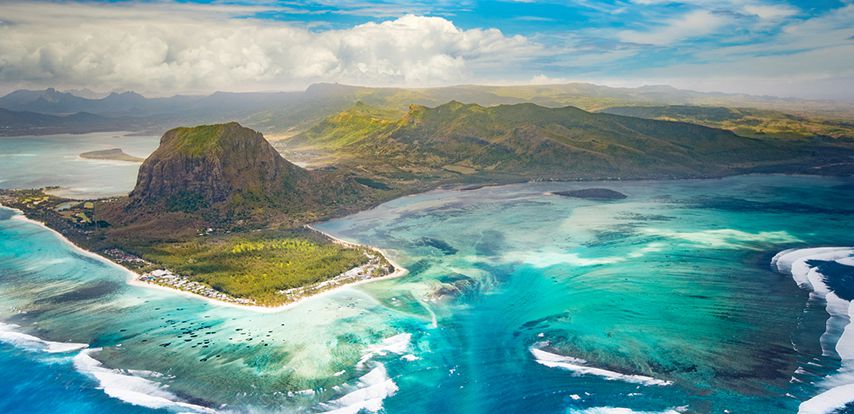 About Mauritius
To start the introduction of Mauritius by informing you that it is often known as 'Mini India' due to its 60% population being Indian. Apart from that, Bhojpuri is one of the predominant languages spoken here.
This country is the largest producer of sugar due to the numerous sugarcane fields that are planted here. This is so because this island is prone to frequent cyclones and only sugarcane plants fare well against them.
Mauritius was previously captured by the Dutch, French, and then finally the English but finally gained Independence in 1968. So, while 60% of the population is Indian, rest is made up of South Africans, French, Chinese, etc.
Best Time To Visit
If you don't mind skipping the colorful season and would like to save some extra bucks, then visiting during the winter season (May – October) is highly recommended. The temperature remains cool and comfortable and you can indulge in most activities without too much effort. Just keep in mind that winter also means frequent rainfall in the area.
Now, for people who want to actually visit the various waterfalls in Mauritius, you will need to visit the place during the monsoon period, i.e., February and March.
Currency And Visa Information
Visa and Customs
Travelers from most of the countries don't need a Visa to enter this country but there are still many countries which need to get a visa prior to their arrival. People of a few countries can also get VOA for 60 days, you can find more information on this over here.
Since Indians don't require a visa to enter Mauritius, the whole process is fairly simple. You should just have the following information with you to present to your immigration officer:
Return Flight Ticket Details
Address and Phone Number of the place where you are staying in Mauritius
Purpose of your travel
When you are at the immigration counter, you are likely to be asked a lot of questions pertaining to your travel. Don't worry, they are just trying to determine if you are planning to settle there or not.
Apart from the customs declaration form, you will also get another Health Declaration Form. In this form, you will need to declare any illness or disease that you might be suffering through, especially Malaria.
Currency Accepted Here
The official currency used in Mauritius is the Mauritius Rupees which is used all over the island. This is the only currency which is used here so you can either get your currency exchanged or you can simply withdraw the money from a local ATM.
How to Travel Around Mauritius
Total Expenses: 500 MUR (1000 INR) for Scooty + 200 MUR (400 INR) for Petrol + 800 MUR (1600 INR) for Buses
The entire length of the Mauritius island is about 65 km which makes it easy to reach from South to North in about an hour. There are several modes of transport available here which makes exploring this island quite convenient.
Public Transport
The best way to travel around Mauritius is by taking buses which cover almost the entire island. You will get buses for all the four directions and their official Mauritius Bus website can help you find the route and the bus timings.
Curepipe is the center point of the island so you will get buses to all the directions from this place. From Quatre Bornes, you will mostly get buses for East, Curepipe and Port Louis.
From Port Louis, you will get buses to the North and the North East side.
Also, remember that Port Louis has two bus stands. One consists of buses for North direction while the other consists of buses for South and Center direction. A bus will cost you about 35-40 MUR for the last bus stop but it will take longer to reach the destination.
You will need to press the buzzer before your bus stop to signal that you need to stop here.
Cabs and Taxis
You will also get several taxis and rental cabs here for exploring the island but these are going to be really expensive. They will cost you about 2000-3000 MUR per day, at the very least.
Renting Cars/Two-Wheelers
If you have a valid driving license then you can also rent a scooter/car here. You will find several rental shops on the North side or online.
For scooty rental, you can check out Scooter shop near Flic en Flac beach. Here, a scooty for a day will cost you 500 MUR with 3000 MUR deposit.
Make sure you check the Insurance papers thoroughly before renting the vehicle.
Hitchhiking
Yes, you can totally hitchhike here and save some money. Most of the people here are friendly and don't mind dropping you on their way and you can learn more about their culture and life this way.
Things to Do in Mauritius
Total Expenses: 600 MUR (1200 INR) for Snorkeling + 1300 MUR (2600 INR) for Dolphin Tour + 225 MUR (450 INR) for Chamarel Entry Fees
Snorkeling at Blue Bay
One of the best places to go for Snorkeling is the Blue Bay area where you go in a glass bottom boat to witness the beautiful corals and fishes here. Trust me, this place is just filled with amazing, colorful corals and fishes which you would certainly enjoy.
Also, it costs 600 MUR per person for Snorkeling while two people can take the entire boat by paying a total of 1000 MUR.
Watch Wind Surfing and Kite Surfing
If you love water sports then you absolutely have to try Kite Surfing at the Le Morne Beach. If you don't know how to surf, then watching others surf is a great way to entertain yourself too.
Go for the Full-Day Dolphin Tour
Another popular activity in Mauritius is to go for Dolphin Watching in which you get to look at different kinds of dolphins. If you are a good swimmer, then you can simply jump in the ocean and swim with the dolphins too.
A few packages also offer you snorkeling experience, island tour, and a BBQ lunch at the Bentiers island after the Dolphin watch. Trust me, this is a package that you have to take to experience a proper ocean day.
Hike to the Various Mountain Tops
Apart from partying and beach hopping, Mauritius is also home to some amazing mountains peaks which can be easily hiked. We hiked to the Le Pouce (Thumb Mountain), Black River Peak (Highest Mountain Peak in Mauritius), and the Le Morne Mountain.
Visit the Seven Colored Earth
A unique activity that you can do in Mauritius is to visit the Seven Colored Earth, aka the Chamarel Land. Here, you will see the land with stripes of yellow, orange, red, violet, indigo, green, and blue which makes this place really gorgeous to look at.
Watch the Underwater Waterfalls From a Helicopter
Most importantly, if you ever visit this place, make sure you check out the Underwater waterfalls with the help of a Helicopter package. Yes, it will be expensive but it is so worth it. We were unable to do because we didn't have the time but we highly recommend this activity to everyone else.